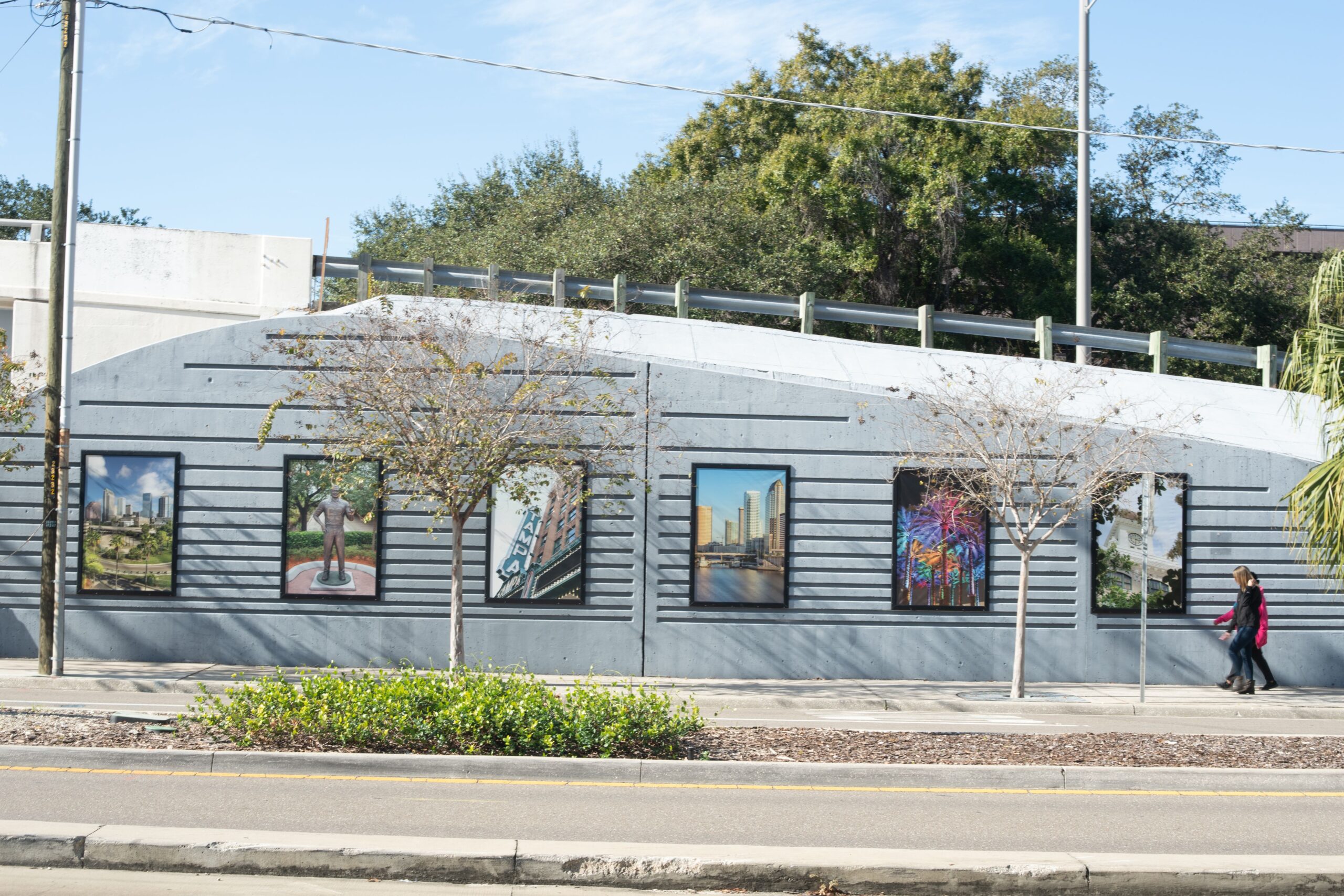 THEA Cares: Frames on Franklin
Our agency takes an active approach in beautifying our community and activating spaces to cultivate an enhanced enjoyment of our region. Every year, we work with community partners on projects near the Selmon Expressway or one of our other roadways that have been identified as areas in need of enhancement. It might be the construction of wider sidewalks to connect communities, landscaping for beautification, development of parks and green spaces, or installing public art.
One such project was the "Frames on Franklin" artwork on the wall of the Selmon Expressway. Located at 124 S Franklin Street in Downtown Tampa, Frames on Franklin is a part of the Downtown Partnership Beautification Program, which installed images from the same series of artwork onto traffic signal boxes throughout downtown Tampa. The vibrant, poster-style artwork was created by artist Tim Boatright, a Tampa native, and inspired by vintage travel posters, cigar box art, and fruit crate labels – all of which are important parts of Tampa's rich history.
Boatright's goal was to capture and celebrate Tampa's history and future highlighted through six city icons: the Tampa Theatre, the Port of Tampa, Tampa City Hall, the Tampa Riverwalk, the University of Tampa, and the Floridan Hotel.
We installed Frames on Franklin in May 2014 working with the Downtown Partnership, City of Tampa Art Programs, and the Tampa Convention Center, to enhance this heavily trafficked area with public art that celebrates the city.
This year, the artwork was vandalized. Our agency is proud to announce that we have cleaned up the artwork, renovating it to its original design, and re-installed it with a barrier to future vandals. Public art is meant to be enjoyed by all, free of charge. Take some time to stroll by the Frames on Franklin as you explore our beautiful city.