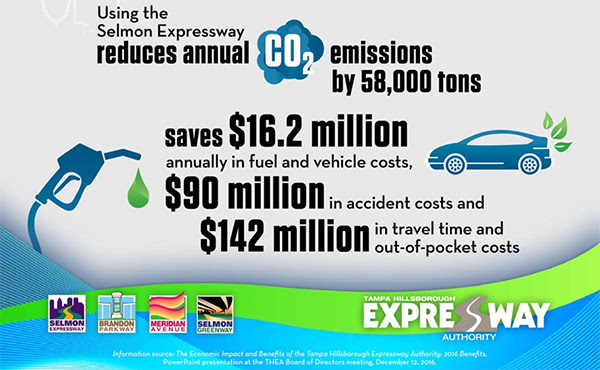 All-Electronic Tolling and Green Spaces Improve the Tampa Bay Region
While all driving has an environmental impact, THEA is committed to being as sustainable as possible in our efforts in the community. We work on two fronts to reduce carbon emissions and air pollution. Through increasing green spaces and with all-electronic tolling, THEA makes our impact on the planet a company-wide priority.
We have been a part Tampa's downtown urban development in a plan to link the neighborhoods of Ybor City, Channelside, the Downtown District and Tampa Heights with a greenway that connects to the Riverwalk and supports more biking and walking as means of transportation.
The Selmon Greenway is a 1.7 mile, 15-foot-wide trail running mostly beneath the Lee Roy Selmon Expressway giving it shade from the heat and shelter from the Summer rains. This trail runs east-west through downtown Tampa and connects with the City's Riverwalk and our own Meridian Trail.  The Greenway is open for anyone who wants to enjoy fresh air, healthy exercise, an alternative work commute to downtown and the amenities of downtown Tampa.
The Selmon Greenway completes a key connection from the Hillsborough River at the Riverwalk to just east of 19th Street within a larger, city-wide trails network that includes the Riverwalk, Bayshore Boulevard, Linear Park Trail and the McKay Bay Trail.
In November 2015, the THEA Board approved a $2.5 Million dollar budget to enhance the Selmon Greenway with more signage, increased safety abilities, more green space, and outdoor lighting.
For those that need to drive to reach their destinations, THEA has instituted an all-electronic tolling system on The Selmon Expressway. There are many reasons for this system, including improved driver safety, but it has also had a significant impact on reducing each person's carbon footprint as they travel.
According to computations by Wilbur Smith & Associates in a 2016 study….
Total Carbon Reduction from Less Idle Time While Paying at Toll Booths: 3,800

Total Carbon Reduction from Less Deceleration and Acceleration from slowing down and speeding up at Toll Plazas: 4,560
Total Metric Tons of Carbon Saved Per Year          8,360
Average Gallons Saved per Year for Payment Time: 430,000    

Average Cost per Gallon of Gas: $2.80

Average Gallons Saved per Year for Que/Slowing Time: 516,000     
Total Gallons Saved per Year     946,000    
Value of Annual Fuel Savings $2,648,800
We also budget $25,000 per year towards community stewardship. This money goes towards beautifying areas with more trees, trash pick-up and green spaces to enjoy.
As we continue to offer traffic and transportation solutions to Tampa Bay, THEA will always look to innovative and forward-thinking ways to benefit the community.